Welcome to Little League District 68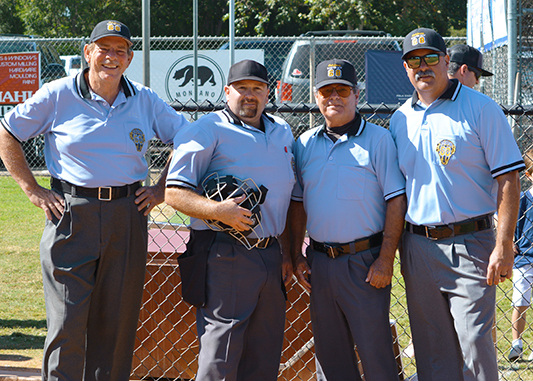 Long Beach Fire Captain and long-time Little League volunteer David Rosa (far right) was tragically shot and killed while responding to an emergency situation in Long Beach on Monday June 25th. Dave was a past president of San Juan Capistrano Little League (2014-2016), and a dedicated volunteer umpire for the league and District 68. He was a truly great guy, on and off the field, who will be missed by all. Dave leaves behind his wife and two children. Please keep his family in your thoughts.

There has been a memorial fund page setup to help the family with unforeseen expenses. If you would like to donate, you can find the page here: www.gofundme.com/supporting-the-rosa-family.
District 68 is one of Western Region's premier districts, dedicated to building strong character, the advancement of the principles of leadership, and building baseball (and life) skills. Everyone is welcome, no one is ever turned away.
Little League Baseball and Softball is the world's largest organized youth sports program. In the span of just seven decades, Little League has grown from three teams to nearly 180,000 teams, in all 50 U.S. states and scores of countries
Read More-->
The Western Region Headquarters is located about sixty miles East of Los Angeles on Interstate Highway 215. The total complex consists of 27 acres, with a Major League field that seats approximately 8,000, and is where each year the Little League Major Division Regional Tournament is played. There is also a lighted Senior League field on the property.
Read More-->
The Challenger Division was established in 1989 as a separate division of Little League to enable boys and girls with physical and mental challenges, ages 4-18, or up to age 22 if still enrolled in high school, to enjoy the game of baseball along with the millions of other children who participate in this sport worldwide.
Read More-->
Copyright 2011 Little League District 68, PO Box 3025, Mission Viejo, Ca. 92691
Powered by ThatWebPlace.net